Table of Contents


When you decide to make the first appointment with a pain management doctor, it usually means chronic pain interferes with daily activities and pain relief is sought. People who experience painful injuries that take months to heal may also seek the help of a pain specialist. The pain management doctor is a specialist who will diagnose the cause of the pain and develop a targeted treatment plan for pain relief, and the plan will require more than one visit. The actual number of visits will depend on what is causing the pain and the type of treatment recommended.

Seeing a Pain Management Doctor the First Time
When pain becomes unmanageable is when to see a pain management doctor. Your family doctor will recommend that you visit a pain management specialist. The pain specialist has various treatment options that fall within four categories.

1. Interventional Therapies for Pain Blocking
Interventional therapies include injections of a steroid or local anesthetic to target nerves or muscles. Common injections include trigger point injections, epidural steroid injections and facet point injections. Other available treatment options are electrostimulation, implantable drug delivery systems, spinal cord stimulation and nerve blocks, to name a few.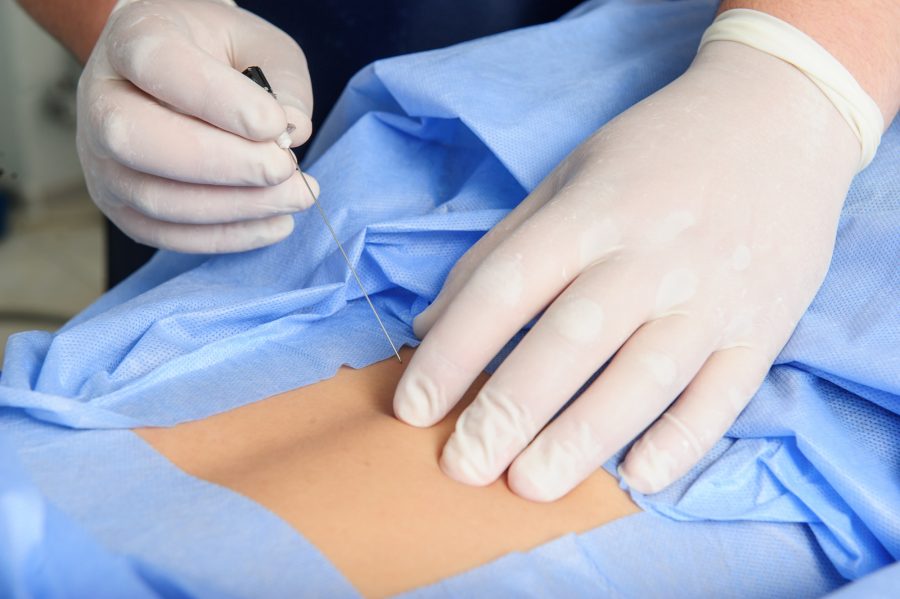 2. Medications
Over-the-counter non-opioid and prescription medicines are usually included in a pain management program. Prescription medicines may include non-opioids or opioids. Topical medications are included in this category.

3. Complementary Therapies
A pain management treatment plan will often include supplemental therapies like physical therapy, transcutaneous electro-nerve stimulator (TENS) or massage therapy.

4. Surgery
Surgery may be necessary to relieve the medical condition causing the pain. However, surgery is always the last option employed.

An interesting study of the psychological aspect of interventional pain management found that many patients feel more empowered when the treatment plan integrates interventional therapies and rehabilitation-focused approaches. Most pain treatment plans use a mix of treatments like an interventional therapy and medications.

In another example, if you are prescribed opioids for chronic pain, you will have to see the pain management doctor a minimum of every three months.

How Often Do You Go to Pain Management?
Though there are many treatment options and treatment plans widely vary to meet patient needs, you will continue seeing the pain management specialist after the first appointment. The frequency and number of appointments depend on the type of treatments administered and whether the pain remains chronic.

For example, epidural steroid injections can be administered 3-4 times a year. However, suppose the injection treats a new medical issue, like a disc herniation. In that case, you may need to see the pain management specialist two weeks after the first injection to get a second injection. If the pain persists after 2-3 injections, other treatment options are considered.

If you have a medical condition like rheumatoid arthritis, monthly visits to get a prescription infusion and check in with the doctor are usual. A pain management specialist coordinates treatments between all the doctors and health professionals helping you find pain relief, like a rheumatologist, your family doctor and other specialists. People experiencing chronic pain due to a particular medical issue, like a spinal condition, may have other health conditions they must continue to address, like diabetes or a heart condition. Coordination among medical professionals is essential to quality care.

Many pain management plans include coordinating appointments with dieticians, physical therapists and mental health professionals.

How to Find a Pain Management Doctor?
Knowing how to find a pain management doctor includes knowing how to find the right physician to meet your needs. Most cities have pain management doctors, so the goal is to find a doctor with an excellent reputation for delivering quality patient care and a network of medical and health professionals for support. Some of the approaches include the following.

Ask your primary care doctor for a referral
Do an online search for local pain management doctors and read patient reviews
Ask your insurance company if it has a list of providers
Ask family and friends for referrals
A major advantage of visiting a Spine and Pain Clinic of North America, specializing in diagnosing and treating pain is that you get access to state-of-the-art medical treatments and the knowledge and expertise of a team of pain specialists. The pain process is complex, and each case is unique. Pain management physicians, Dr. Majid Ghauri and Dr. Ashraf Sabahat are experts in helping people restore their quality of life through pain reduction or elimination.
Managing Instead of Enduring Pain
Scheduling an appointment is, of course, how to see a pain management doctor. Before making the appointment, you can ask questions about the available treatments the clinic offers, experience with treating your source of pain (if you know it) and the basic approach to pain management. Too many people hesitate to ask questions when they have every right to do so.

If you don't know how how to prepare for your first appointment, check out the post.
Sometimes, if your chronic pain has made life unbearable, your primary care doctor can help you get the first appointment sooner rather than later. The important point is to be proactive in dealing with chronic pain. There are so many pain treatments and therapies available today that most people suffering with chronic pain can live a higher quality life by following a customized pain treatment plan.
Sources
https://www.ncbi.nlm.nih.gov/pmc/articles/PMC7329503/
https://www.ncbi.nlm.nih.gov/books/NBK537320/
https://www.cdc.gov/drugoverdose/pdf/Guidelines_At-A-Glance-508.pdf