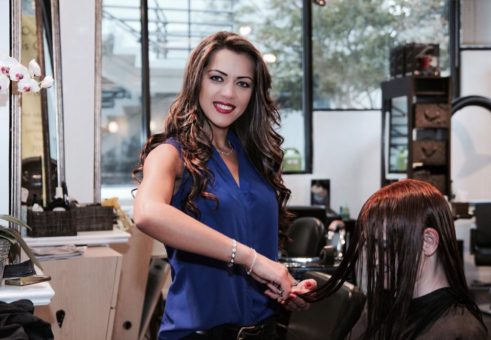 ecoming a hairstylist was always a bit of a pipe dream for Irina. She started using a teasing brush and curling iron long before she was a teenager, did her own hair for a prom, and her girlfriends lined themselves out of her apartment door to have their hair styled for every party and the glamorous occasion they had.
Irina decided to become a hairstylist at the age of 20. She busted her tail in beauty school from day one, worked long shifts as a "shampoo girl", and eventually made her way to becoming a licensed colorist and hairdresser at a reputable hair salon.
15 years later Irina is considered one of the best hairstylists in Washington DC Metropolitan Area. She also owns the luxury salon in Vienna, VA. Many capitol brides line up to become her clients for THE big day almost immediately after they try those princess-cut rings on. Her hair design and color works have been featured in many fashion magazines; she organized and appeared as a special guest stylist at many local posh events.
"Working as a hairstylist is not always as glamorous as it looks like on the pages of fashion magazines. People usually get their hair done during off-work hours, such as early mornings, evenings, and weekends. If you're into wedding work, your Saturdays can start as early as 4 AM. Long hours of a non-stop standing, cutting, coloring, and blow-drying eventually cause problems to many stylists." says Irina about her daily routine.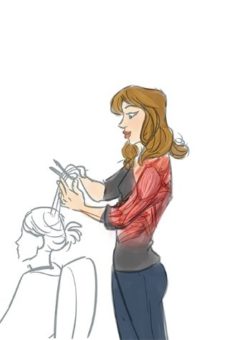 Hairstylists, assistants, colorists, and cosmetologists are particularly at risk from being on their feet all day, which is a stimulus for foot pain, knee pain, hip and low-back pain. Also, those upper back and neck suffer the most due to the constant looking down to the client´s head as you cut and style. Many stylists suffer shoulder problems, rotator cuff injuries and wrist overuse like Carpal Tunnel Syndrome due to the repetitive motions of the brush and the weight of the hair dryer.
Styling hair for fifteen years in a row took an enormous toll on Irina's body as well, specifically her shoulder. She started experiencing sharp pain in her shoulder at the age of 32. During the past three years, she has tried it all: regular visits to chiropractors, physical therapists, acupuncture, over the counter remedies, prescription pills, and massage. She has consulted with a surgeon and for some time believed that surgery was her last option. The pain kept her awake for many nights.
Irina was referred to Dr. Majid Ghauri in April of 2017, shortly after he opened his clinic in Fairfax, VA. The patient was diagnosed with cervical spondylosis. Dr. Majid Ghauri offered Irina cervical epidural steroid injection at a C6-7 level of her cervical spine. She agreed and tolerated a procedure very well.
"This was the last time I have visited a doctor for my shoulder pain. It's GONE. I couldn't believe it right away because I've lived with it for such a long time that I was expecting it to come back any day. However, it's been almost a year, and I haven't had any shoulder pain what so ever. Yes, I understand that I may need to repeat treatment in the future again, but if a 5-minute long injection is all I need, I'll be thrilled to do that and can continue concentrating on my business and clients" says Irina.
Learn more about Epidural Steroid injections